Ingredients: 2 cups all-purpose flour, 1 teaspoon baking soda, 1/2 teaspoon salt, 1 cup butter, softened, 3/4 cup granulated sugar, 3/4 cup packed brown sugar, 1 teaspoon vanilla extract, 2 eggs , 2 cups semisweet chocolate chips Directions: Preheat oven to 350°. In a bowl, whisk together flour, baking soda and salt; set aside.

In another bowl, beat butter and sugars on medium speed until light and fluffy. Beat in vanilla. Add eggs one at a time, beating just until combined after each.

Gradually add flour mixture to butter mixture on low speed until blended. Stir in chocolate chips. Drop dough by rounded tablespoons onto ungreased baking sheets.

Bake until cookies are golden brown, about 15 minutes.
Chocolate chip cookies are a classic dessert that everyone loves. And what's not to love? They're soft, chewy, and full of delicious chocolate chips.

But have you ever had a chocolate chip cookie that was even better than the ones you usually make? If not, then you need to try this Otis Spunkmeyer chocolate chip cookie recipe. These cookies are made with real butter and milk chocolate chips, which makes them extra rich and flavorful.

Plus, they're baked to perfection so they're always nice and moist. So if you're looking for a chocolate chip cookie recipe that will take your desserts to the next level, then be sure to give this Otis Spunkmeyer recipe a try. Your friends and family will be impressed!
Otis Spunkmeyer Chocolate Chip Cookies
How Do You Make Otis Spunkmeyer Cookie Dough?
Otis Spunkmeyer is a brand of pre-made cookie dough that can be found in most supermarkets. The company offers a wide variety of flavors, including chocolate chip, oatmeal raisin, and peanut butter. To make cookies from Otis Spunkmeyer cookie dough, simply preheat your oven to the temperature specified on the packaging.

Then, use a spoon or your hands to scoop out small balls of dough onto a baking sheet lined with parchment paper. Make sure to space the dough balls out evenly so that they have room to spread while baking. Bake the cookies for 10-12 minutes, or until they are golden brown and set.

Let them cool on the baking sheet for a few minutes before transferring to a wire rack to cool completely. Enjoy!
Why are Otis Spunkmeyer Cookies So Good?
Otis Spunkmeyer cookies are some of the most popular cookies on the market. They are known for their delicious flavor and soft texture. But what makes these cookies so special?

There are a few factors that contribute to the amazing taste of Otis Spunkmeyer cookies. First, they use high-quality ingredients like real butter, brown sugar, and chocolate chips. This combination creates a rich flavor that is hard to resist.

Another reason Otis Spunkmeyer cookies are so good is because they are baked fresh daily. This means that each cookie is moist and fluffy, with a perfect balance of sweetness. You can taste the difference in every bite!

Finally, Otis Spunkmeyer puts a lot of care into their baking process. Their Cookies are always baked to perfection, ensuring that they maintain their signature softness and flavor. It's no wonder why these cookies are so beloved by everyone who tries them!
What Happened to Otis Spunkmeyer Cookies?
Otis Spunkmeyer cookies are no longer being sold in stores. The company has been bought by a new owner and the new owner is not selling Otis Spunkmeyer cookies anymore.
Are Subway Cookies Otis Spunkmeyer?
No, Subway cookies are not Otis Spunkmeyer. Otis Spunkmeyer is a brand of baked goods, specializing in pre-made cookie dough and muffins. The company was founded in 1977 by Otis and Lois Spunckmeyer.

Subway is a fast food franchise that primarily sells sandwiches and salads. While the chain offers a variety of cookies, they are all made with different recipes.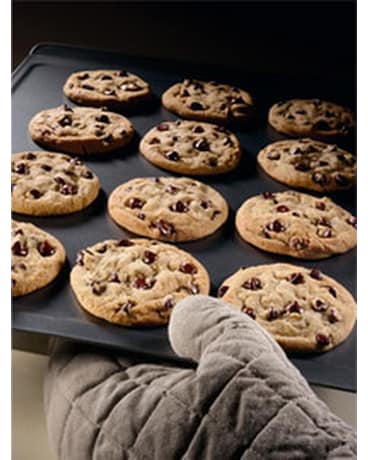 Credit: www.myrtleflowershop.com
Otis Spunkmeyer Chocolate Chip Cookies
When it comes to chocolate chip cookies, Otis Spunkmeyer knows how to make a delicious treat! Their chocolate chip cookies are made with real butter, brown sugar, and semi-sweet chocolate chips for a cookie that is both rich and flavorful. These cookies are also nice and thick, making them perfect for dunking in milk or coffee.

Best of all, Otis Spunkmeyer's chocolate chip cookies are available in both regular and mini sizes so you can choose the perfect cookie for your craving.
Otis Spunkmeyer Chocolate Chip Cookie Ingredients
Are you a fan of Otis Spunkmeyer cookies? If so, you might be interested to know what goes into their chocolate chip cookie recipe. Here's a detailed look at the ingredients:

Flour, sugar, butter, eggs, baking soda, and salt are all pretty standard cookie ingredients. But Otis Spunkmeyer adds a few extra things to give their cookies that signature flavor and texture. They use brown sugar for a little bit of molasses flavor, as well as vanilla extract and almond extract for some added depth of flavor.

And of course, plenty of chocolate chips! Otis Spunkmeyer's chocolate chip cookies are soft and chewy with just the right amount of sweetness. If you're looking for a delicious treat, these cookies are definitely worth trying!
Otis Spunkmeyer Chocolate Chip Cookie Calories
Are you a fan of Otis Spunkmeyer cookies? If so, you may be wondering how many calories are in their chocolate chip cookies. Well, according to the Otis Spunkmeyer website, each cookie contains 140 calories.

So, if you're looking to indulge in a delicious chocolate chip cookie (or two), just be aware that they pack quite a caloric punch! But hey, sometimes a little indulgence is worth it – especially when the cookies are as delicious as Otis Spunkmeyer's!
Conclusion
Looking for an amazing chocolate chip cookie recipe? Look no further than this Otis Spunkmeyer recipe! These cookies are thick, chewy, and packed with chocolate chips.

Plus, they only require a few simple ingredients that you probably already have in your pantry. So what are you waiting for? Give this recipe a try today!